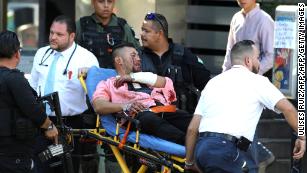 In the nine months leading up to this weekend's presidential election, 132 politicians have been killed.
The group's report, released Tuesday, found that 22 of Mexico's 32 states have seen a political assassination since campaigning began in September.
However, 48 of the victims were candidates. The rest included party workers.
"These numbers anticipates a serious challenge of security for peace and democratic governance in these regions, and could debilitate the political party," the firm said.
While the motives for these killings are unclear, drug cartels -- which operate in vast swaths of the country -- are believed to be behind many of them.
Election Day in Mexico
is Sunday, when voters elect the country's new president and fill thousands of congressional, state and local seats. Peña Nieto cannot run for re-election because presidents are limited to one six-year term.